Algebra 2
>
Sequences and Linear Functions
>
Point-Slope Form of a Line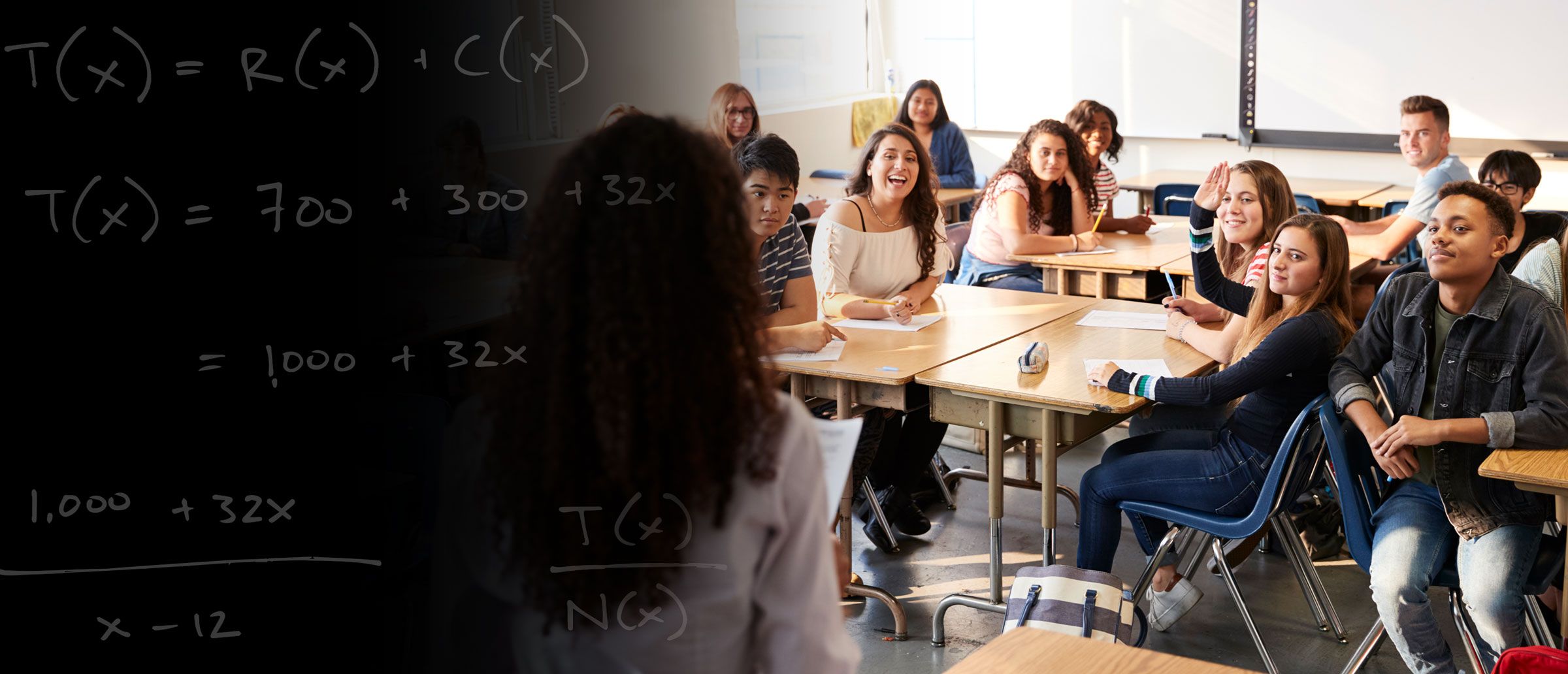 Point-Slope Form of a Line (Lesson 1.6)
Unit 1: Sequences and Linear Functions

Day 1: Recursive Sequences

Day 2: Applications of Arithmetic Sequences

Day 3: Sum of an Arithmetic Sequence

Day 4: Applications of Geometric Sequences

Day 5: Sequences Review

Day 6: Quiz 1.1 to 1.4

Day 7: Linear Relationships

Day 8: Point-Slope Form of a Line

Day 9: Standard Form of a Linear Equation

Day 10: Quiz 1.5 to 1.7

Day 11: Unit 1 Review

Day 12: Unit 1 Test

Unit 2: Linear Systems

Day 1: Linear Systems

Day 2: Number of Solutions

Day 3: Elimination

Day 4: Larger Systems of Equations

Day 5: Quiz 2.1 to 2.4

Day 6: Systems of Inequalities

Day 7: Optimization Using Systems of Inequalities

Day 8: Quiz 2.5 to 2.6

Day 9: Unit 2 Review

Day 10: Unit 2 Test

Unit 3: Function Families and Transformations

Day 1: Interpreting Graphs

Day 2: What is a function?

Day 3: Translating Functions

Day 4: Quiz 3.1 to 3.3

Day 5: Quadratic Functions and Translations

Day 6: Square Root Functions and Reflections

Day 7: Absolute Value Functions and Dilations

Day 8: Equations of Circles

Day 9: Quiz 3.4 to 3.7

Day 10: Unit 3 Review

Day 11: Unit 3 Test

Unit 4: Working with Functions

Day 1: Using Multiple Strategies to Solve Equations

Day 2: Solving Equations

Day 3: Solving Nonlinear Systems

Day 4: Quiz 4.1 to 4.3

Day 5: Combining Functions

Day 6: Composition of Functions

Day 7: Inverse Relationships

Day 8: Graphs of Inverses

Day 9: Quiz 4.4 to 4.7

Day 10: Unit 4 Review

Day 11: Unit 4 Test

Unit 5: Exponential Functions and Logarithms

Day 1: Writing Exponential Functions

Day 2: Graphs of Exponential Functions

Day 3: Applications of Exponential Functions

Day 4: Quiz 5.1 to 5.3

Day 5: Building Exponential Models

Day 6: Logarithms

Day 7: Graphs of Logarithmic Functions

Day 8: Quiz 5.4 to 5.6

Day 9: Unit 5 Review

Day 10: Unit 5 Test

Unit 6: Quadratics

Day 1: Forms of Quadratic Equations

Day 2: Writing Equations for Quadratic Functions

Day 3: Factoring Quadratics

Day 4: Factoring Quadratics. Part 2.

Day 5: Solving Using the Zero Product Property

Day 6: Quiz 6.1 to 6.4

Day 7: Completing the Square

Day 8: Completing the Square for Circles

Day 9: Quadratic Formula

Day 10: Complex Numbers

Day 11: The Discriminant and Types of Solutions

Day 12: Quiz 6.5 to 6.9

Day 13: Unit 6 Review

Day 14: Unit 6 Test

Unit 7: Higher Degree Functions

Day 1: What is a Polynomial?

Day 2: Forms of Polynomial Equations

Day 3: Polynomial Function Behavior

Day 4: Repeating Zeros

Day 5: Quiz 7.1 to 7.4

Day 6: Multiplying and Dividing Polynomials

Day 7: Factoring Polynomials

Day 8: Solving Polynomials

Day 9: Quiz 7.5 to 7.7

Day 10: Unit 7 Review

Day 11: Unit 7 Test

Unit 8: Rational Functions

Day 1: Intro to Rational Functions

Day 2: Graphs of Rational Functions

Day 3: Key Features of Graphs of Rational Functions

Day 4: Quiz 8.1 to 8.3

Day 5: Adding and Subtracting Rational Functions

Day 6: Multiplying and Dividing Rational Functions

Day 7: Solving Rational Functions

Day 8: Quiz 8.4 to 8.6

Day 9: Unit 8 Review

Day 10: Unit 8 Test

Unit 9: Trigonometry

Day 1: Right Triangle Trigonometry

Day 2: Solving for Missing Sides Using Trig Ratios

Day 3: Inverse Trig Functions for Missing Angles

Day 4: Quiz 9.1 to 9.3

Day 5: Special Right Triangles

Day 6: Angles on the Coordinate Plane

Day 7: The Unit Circle

Day 8: Quiz 9.4 to 9.6

Day 9: Radians

Day 10: Radians and the Unit Circle

Day 11: Arc Length and Area of a Sector

Day 12: Quiz 9.7 to 9.9

Day 13: Unit 9 Review

Day 14: Unit 9 Test
Learning Targets
Write and graph linear equations in point slope form.
Make connections between finding terms of an arithmetic sequence and outputs of a linear equation.
| Tasks/Activity | Time |
| --- | --- |
| Activity | 20 minutes |
| Debrief Activity with Margin Notes | 10 minutes |
| QuickNotes | 5 minutes |
| Check Your Understanding | 15 minutes |
Activity: How Much Does my Pizza Cost?
Lesson Handouts
pdf
Media Locked
You must be logged in to access this content.
docx
Media Locked
You must be logged in to access this content.
Answer Key
pdf
Media Locked
You must be logged in to access this content.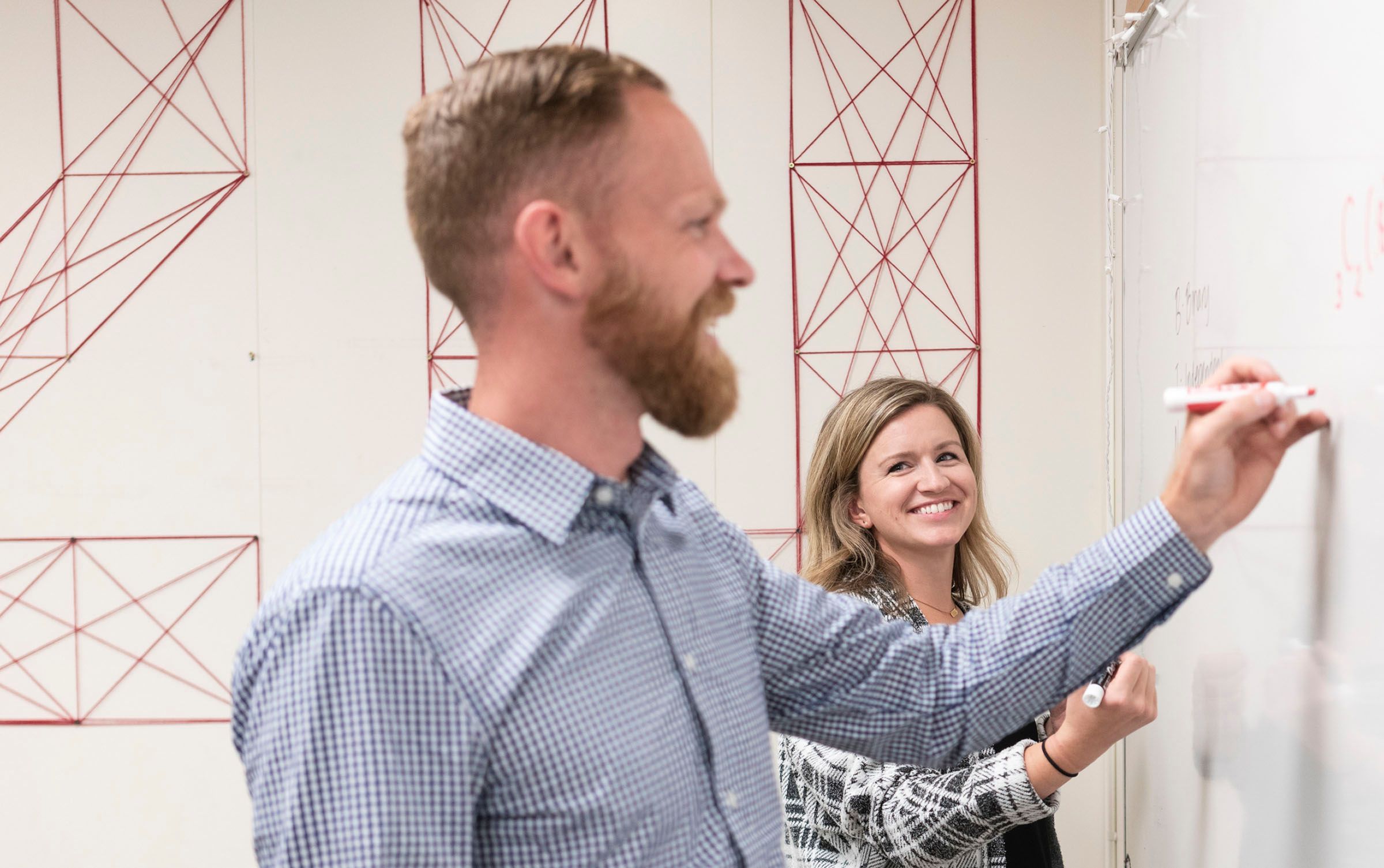 Our Teaching Philosophy:
Experience First,
Formalize Later (EFFL)
Learn More
Experience First
Today students use the context of pizza prices to discover point-slope form of a line. When given an order for a 3-topping pizza and the price per topping, students have to figure out the price of a 2-topping and 5-topping pizza. The goal is for students to be able to think of each pizza in relation to the pizza they are already given. Instead of needing to know a "base price" of the pizza and adding on, students can add or subtract toppings from the 3-topping pizza. For every topping added or subtracted, 1.50 is added or subtracted from the price. It is very intuitive for students to calculate the extra cost of upgrading from a 3-topping to a 5-topping pizza simply by finding the price of two additional toppings, yet they often don't make the connection to the equation y - y1 = m(x - x1) as representing the same thing. In this case, y-y1 represents the change in price between two pizzas, which we can find by multiplying the cost per topping by the number of additional (or fewer) toppings. Note that this interpretation does not require a y-intercept because we are thinking about toppings in addition to or removed from the 3-topping pizza.

In question 3, students may be able to verbalize the relationship without being able to write the equation. This is okay, but for groups that are ready, you may prompt them to consider what information they are basing their calculations on (the price of a 3-topping pizza given in the order) and how this would show up in the equation. To help them with the (x-3) portion, go back to question 2 and ask why they did not multiply the 1.5 by 5 since it was a 5-topping pizza. I like to feign confusion here and really press them for a convincing explanation. Then ask them what they would do for 9 toppings or 11 toppings (i.e. how much would you have to add on to $16.49?) Students should soon be able to articulate that you only have to add on 5-3, or 9-3, or 11-3 toppings since we only care about the toppings that are additional to the ones already included in the $16.49 price.
Formalize Later
Point-slope form of a line is one of the most useful and illuminating concepts in math that transcends from Algebra 1 all the way through Calculus. In this lesson we take the "adding on approach", not the translation approach (although this is a great connection to make in Unit 3 when we talk about translations and transformations of functions!). The goal is for students to think conceptually about both versions of the point slope form of a line, one that highlights the change in y-values and one that highlights the final y-value. We encourage you to use both versions throughout the unit and course. We hope students see the value in being able to start with any point on a line, instead of having to first solve for a y-intercept. Question 2 on the Check Your Understanding further drives home this point.

A common confusion for students when writing point-slope form of a line is which parts in the general form need to be substituted and which ones stay variables. By explaining that this is the equation of a line, students should understand why an independent and dependent variable needs to be present in the equation. The equation needs to represent any and all points on the line. In other words, the way we find the cost of a pizza with any number (x) toppings is to take the price of a pizza we know with x1 toppings (whose price is given by y1) and add on (or subtract) the additional toppings, in other words, you have to account for "how far away" we are from the given pizza, either to the left or right. It should make sense to students why there is a minus in the equation and not a plus, since we are thinking about distance away from x1. It makes sense that if we want a point to the left of x1, we will end up subtracting copies of the slope since x-x1 would be a negative value. While the use of (x1,y1) for the given point is standard notation, some students find it easier to think about the anchor point as (a, c); we avoid using b, as students generally interpret it as a y-intercept. In later courses, we will use (a, f(a)).