Algebra 2
>
Quadratics
>
Unit 6 Review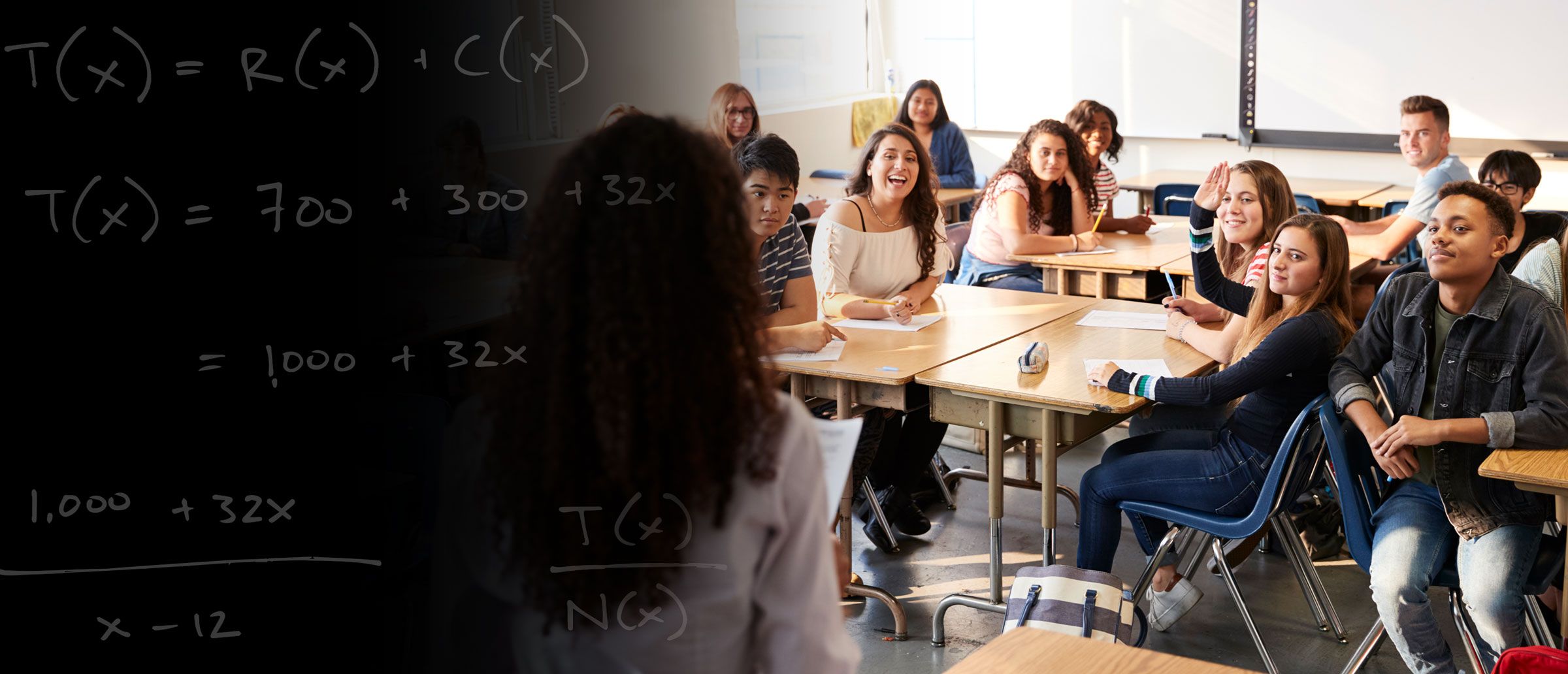 Unit 6 Review
Unit 1: Sequences and Linear Functions

Day 1: Recursive Sequences

Day 2: Applications of Arithmetic Sequences

Day 3: Sum of an Arithmetic Sequence

Day 4: Applications of Geometric Sequences

Day 5: Sequences Review

Day 6: Quiz 1.1 to 1.4

Day 7: Linear Relationships

Day 8: Point-Slope Form of a Line

Day 9: Standard Form of a Linear Equation

Day 10: Quiz 1.5 to 1.7

Day 11: Unit 1 Review

Day 12: Unit 1 Test

Unit 2: Linear Systems

Day 1: Linear Systems

Day 2: Number of Solutions

Day 3: Elimination

Day 4: Larger Systems of Equations

Day 5: Quiz 2.1 to 2.4

Day 6: Systems of Inequalities

Day 7: Optimization Using Systems of Inequalities

Day 8: Quiz 2.5 to 2.6

Day 9: Unit 2 Review

Day 10: Unit 2 Test

Unit 3: Function Families and Transformations

Day 1: Interpreting Graphs

Day 2: What is a function?

Day 3: Translating Functions

Day 4: Quiz 3.1 to 3.3

Day 5: Quadratic Functions and Translations

Day 6: Square Root Functions and Reflections

Day 7: Absolute Value Functions and Dilations

Day 8: Equations of Circles

Day 9: Quiz 3.4 to 3.7

Day 10: Unit 3 Review

Day 11: Unit 3 Test

Unit 4: Working with Functions

Day 1: Using Multiple Strategies to Solve Equations

Day 2: Solving Equations

Day 3: Solving Nonlinear Systems

Day 4: Quiz 4.1 to 4.3

Day 5: Combining Functions

Day 6: Composition of Functions

Day 7: Inverse Relationships

Day 8: Graphs of Inverses

Day 9: Quiz 4.4 to 4.7

Day 10: Unit 4 Review

Day 11: Unit 4 Test

Unit 5: Exponential Functions and Logarithms

Day 1: Writing Exponential Functions

Day 2: Graphs of Exponential Functions

Day 3: Applications of Exponential Functions

Day 4: Quiz 5.1 to 5.3

Day 5: Building Exponential Models

Day 6: Logarithms

Day 7: Graphs of Logarithmic Functions

Day 8: Quiz 5.4 to 5.6

Day 9: Unit 5 Review

Day 10: Unit 5 Test

Unit 6: Quadratics

Day 1: Forms of Quadratic Equations

Day 2: Writing Equations for Quadratic Functions

Day 3: Factoring Quadratics

Day 4: Factoring Quadratics. Part 2.

Day 5: Solving Using the Zero Product Property

Day 6: Quiz 6.1 to 6.4

Day 7: Completing the Square

Day 8: Completing the Square for Circles

Day 9: Quadratic Formula

Day 10: Complex Numbers

Day 11: The Discriminant and Types of Solutions

Day 12: Quiz 6.5 to 6.9

Day 13: Unit 6 Review

Day 14: Unit 6 Test

Unit 7: Higher Degree Functions

Day 1: What is a Polynomial?

Day 2: Forms of Polynomial Equations

Day 3: Polynomial Function Behavior

Day 4: Repeating Zeros

Day 5: Quiz 7.1 to 7.4

Day 6: Multiplying and Dividing Polynomials

Day 7: Factoring Polynomials

Day 8: Solving Polynomials

Day 9: Quiz 7.5 to 7.7

Day 10: Unit 7 Review

Day 11: Unit 7 Test

Unit 8: Rational Functions

Day 1: Intro to Rational Functions

Day 2: Graphs of Rational Functions

Day 3: Key Features of Graphs of Rational Functions

Day 4: Quiz 8.1 to 8.3

Day 5: Adding and Subtracting Rational Functions

Day 6: Multiplying and Dividing Rational Functions

Day 7: Solving Rational Functions

Day 8: Quiz 8.4 to 8.6

Day 9: Unit 8 Review

Day 10: Unit 8 Test

Unit 9: Trigonometry

Day 1: Right Triangle Trigonometry

Day 2: Solving for Missing Sides Using Trig Ratios

Day 3: Inverse Trig Functions for Missing Angles

Day 4: Quiz 9.1 to 9.3

Day 5: Special Right Triangles

Day 6: Angles on the Coordinate Plane

Day 7: The Unit Circle

Day 8: Quiz 9.4 to 9.6

Day 9: Radians

Day 10: Radians and the Unit Circle

Day 11: Arc Length and Area of a Sector

Day 12: Quiz 9.7 to 9.9

Day 13: Unit 9 Review

Day 14: Unit 9 Test
Activity: Stinky Feet
Handouts
docx
Media Locked
You must be logged in to access this content.
pdf
Media Locked
You must be logged in to access this content.
Answer Key
pdf
Media Locked
You must be logged in to access this content.
To prepare for today's review game, print multiple copies of the problem set. There should be enough copies for each group to have one set. Printing them on a different color for each group is helpful to keep from mixing them up. Cut up the problems and arrange them in your classroom somewhere for easy access. The students will be working through the questions one at a time. You'll also want to prepare your Post-Its with the point amounts on them and stick them to a poster or the whiteboard (see below for more details). Arrange students in groups of 3 or 4. Each group should come up with a team name and write it on the board.

Group members take turns coming up to the teacher to take ONE problem at a time. They work on this at their desks with their group members and bring it up to you to check. If it is incorrect, you will simply say "No" and send them back to try again. If the answer is correct, they take a new question to work on and head back to their group.

But now let's talk about the scoring. Every time a group gets a correct problem, they choose a Post-It note from the set you've put up (roughly 20-30 sticky notes) which have a number of points written on the back of them. But here's the catch, some of the Post-Its are Stinky Feet, meaning they have NEGATIVE points on them. So BEFORE the group sees the number of points they have to choose whether to keep the points or give them to another group. They randomly select a sticky note to determine how many points they earn for doing that problem. If they have chosen to give the points to another team, they can look at the value and THEN decide which team to assign it to. They should then adjust the scores on the board, and start working on the next problem.

The game ends when there are no more sticky notes left, or after an allotted time.

To make the sticky notes, write a point value on the back of 30 or so Post-It notes (we use pencil so they can't see through it). Stick them to a poster or whiteboard. I write positive values between 0 and 10 on most of them but a few higher ones (15 and 20) and some negative ones, including one negative 20. I don't tell the students the distribution of positive and negative numbers.