Precalculus
>
Prerequisites
>
Quiz 0.1 to 0.4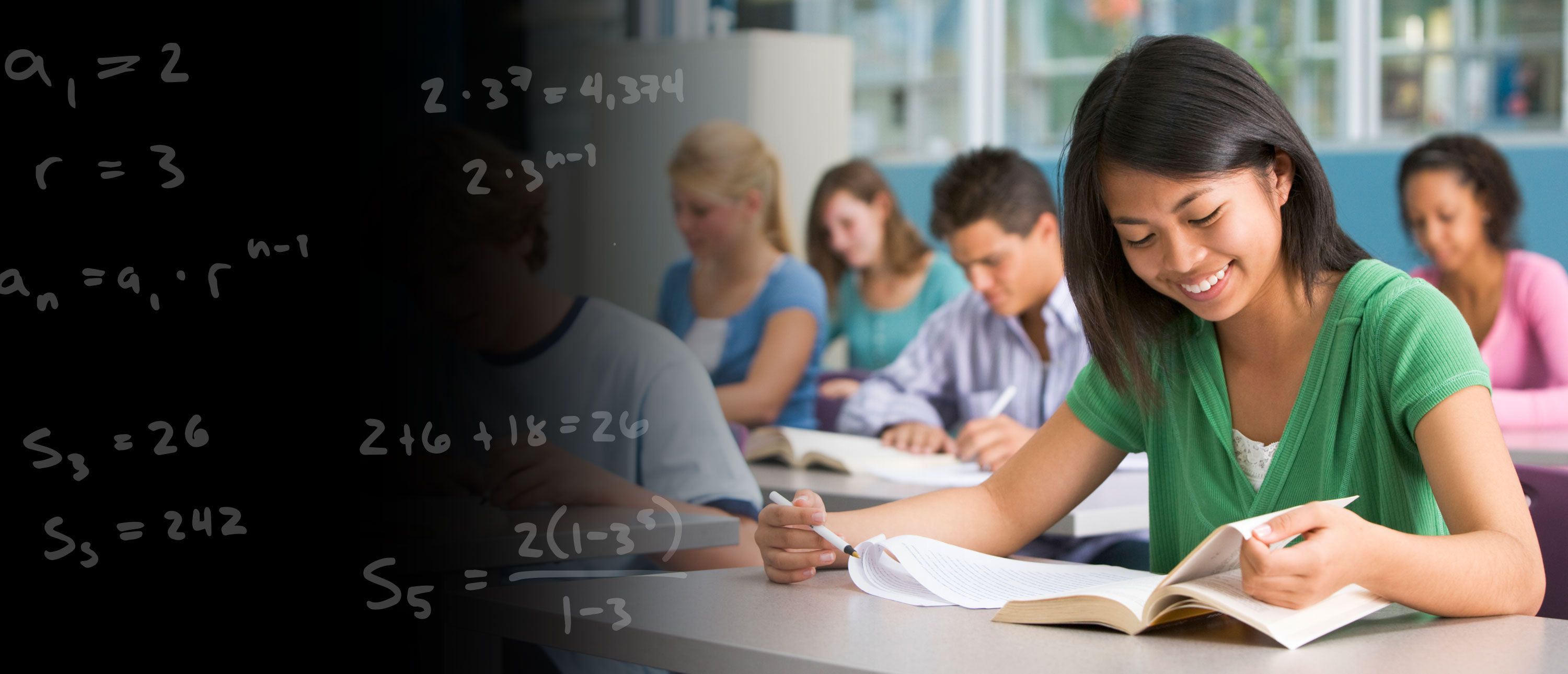 Quiz 0.1 to 0.4
Unit 0: Prerequisites

Day 1: The Cartesian Plane

Day 2: Equations of Circles

Day 3: Solving Equations in Multiple Representations

Day 4: Reasoning with Formulas

Day 5: Quiz 0.1 to 0.4

Day 6: Linear Relationships

Day 7: Reasoning with Slope

Day 8: Set Notation

Day 9: Quiz 0.5 to 0.7

Day 10: Unit 0 Review

Day 11: Unit 0 Test

Unit 1: Functions

Day 1: Functions and Function Notation

Day 2: Domain and Range

Day 3: Rates of Change and Graph Behavior

Day 4: Library of Parent Functions

Day 5: Transformations of Functions

Day 6: Transformations of Functions

Day 7: Even and Odd Functions

Day 8: Quiz 1.1 to 1.6

Day 9: Building Functions

Day 10: Compositions of Functions

Day 11: Inverse Functions

Day 12: Graphs of Inverse Functions

Day 13: Piecewise Functions

Day 14: Quiz 1.7 to 1.11

Day 15: Unit 1 Review

Day 16: Unit 1 Test

Unit 2: Polynomial and Rational Functions

Day 1: Connecting Quadratics

Day 2: Completing the Square

Day 3: Polynomials in the Short Run

Day 4: Polynomials in the Long Run

Day 5: Review 2.1-2.4

Day 6: Quiz 2.1 to 2.4

Day 7: Factor and Remainder Theorem

Day 8: Factor and Remainder Theorem

Day 9: Complex Zeros

Day 10: Connecting Zeros Across Multiple Representations

Day 11: Intro to Rational Functions

Day 12: Graphing Rational Functions

Day 13: Quiz 2.5 to 2.9

Day 14: Unit 2 Review

Day 15: Unit 2 Test

Unit 3: Exponential and Logarithmic Functions

Day 1: Exponential Functions

Day 2: Graphs of Exponential Functions

Day 3: Compound Interest and an Introduction to "e"

Day 4: Review 3.1-3.3

Day 5: Quiz 3.1 to 3.3

Day 6: Logarithmic Functions

Day 7: Graphs of Logarithmic Functions

Day 8: Logarithm Properties

Day 9: Solving Exponential and Logarithmic Equations

Day 10: Quiz 3.4 to 3.7

Day 11: Exponential and Logarithmic Modeling

Day 12: Unit 3 Review

Day 13: Unit 3 Test

Unit 4: Trigonometric Functions

Day 1: Right Triangle Trig

Day 2: Inverse Trig Ratios

Day 3: Radians and Degrees

Day 4: Unit Circle

Day 5: Unit Circle

Day 6: Other Trig Functions

Day 7: Review 4.1-4.6

Day 8: Quiz 4.1 to 4.6

Day 9: Graphing Sine and Cosine

Day 10: Transformations of Sine and Cosine Graphs

Day 11: Graphing Secant and Cosecant

Day 12: Graphing Tangent and Cotangent

Day 13: Quiz 4.7 to 4.10

Day 14: Inverse Trig Functions

Day 15: Trigonometric Modeling

Day 16: Trigonometric Identities

Day 17: Unit 4 Review

Day 18: Unit 4 Review

Day 19: Unit 4 Test

Unit 5: Applications of Trigonometry

Day 1: Law of Sines

Day 2: The Ambiguous Case (SSA)

Day 3: Law of Cosines

Day 4: Area and Applications of Laws

Day 5: Vectors

Day 6: Review 5.1-5.5

Day 7: Quiz 5.1 to 5.5

Day 8: Polar Coordinates

Day 9: Equations in Polar and Cartesian Form

Day 10: Polar Graphs Part 1

Day 11: Polar Graphs Part 2

Day 12: Review 5.6-5.9

Day 13: Quiz 5.6 to 5.9

Day 14: Parametric Equations

Day 15: Parametric Equations (With Trig)

Day 16: Unit 5 Review

Day 17: Unit 5 Test

Unit 6: Systems of Equations

Day 1: What is a Solution?

Day 2: Solving Systems with Substitution

Day 3: Solving Systems with Elimination

Day 4: Review 6.1-6.3

Day 5: Quiz 6.1 to 6.3

Day 6: Solving Systems in 3 Variables

Day 7: Solving Systems in 3 Variables

Day 8: Partial Fractions

Day 9: Unit 6 Review

Day 10: Unit 6 Test

Unit 7: Sequences and Series

Day 1: Introducing Sequences

Day 2: Using Sequences and Series to Describe Patterns

Day 3: Arithmetic Sequences and Series

Day 4: Review 7.1-7.2

Day 5: Quiz 7.1 to 7.2

Day 6: Geometric Sequences and Finite Series

Day 7: Infinite Geometric Sequences and Series

Day 8: Proof by Induction

Day 9: Proof by Induction

Day 10: Quiz 7.3 to 7.5

Day 11: Unit 7 Review

Day 12: Unit 7 Test

Unit 8: Limits

Day 1: What is a Limit?

Day 2: Evaluating Limits Graphically

Day 3: Evaluating Limits with Direct Substitution

Day 4: Evaluating Limits Analytically

Day 5: Evaluating Limits Analytically

Day 6: Review 8.1-8.4

Day 7: Quiz 8.1 to 8.4

Day 8: Continuity

Day 9: Continuity

Day 10: Intermediate Value Theorem

Day 11: Intermediate Value Theorem

Day 12: Review 8.5-8.6

Day 13: Quiz 8.5 to 8.6

Day 14: Limits at Infinity

Day 15: Unit 8 Review

Day 16: Unit 8 Test

Unit 9: Derivatives

Day 1: Introduction to Derivatives

Day 2: Average versus Instantaneous Rates of Change

Day 3: Calculating Instantaneous Rate of Change

Day 4: Calculating Instantaneous Rate of Change

Day 5: The Derivative Function

Day 6: The Derivative Function

Day 7: Review 9.1-9.3

Day 8: Quiz 9.1 to 9.3

Day 9: Derivative Shortcuts

Day 10: Differentiability

Day 11: Connecting f and f'

Day 12: Connecting f and f'

Day 13: Review 9.4-9.6

Day 14: Quiz 9.4 to 9.6

Day 15: Derivatives of Sine and Cosine

Day 16: Product Rule

Day 17: Quotient Rule

Day 18: Review 9.7-9.9

Day 19: Quiz 9.7 to 9.9

Day 20: Unit 9 Review

Day 21: Unit 9 Test

Unit 10: (Optional) Conic Sections

Day 1: Intro to Conic Sections

Day 2: Defining Parabolas

Day 3: Working with Parabolas

Day 4: Quiz 10.1 to 10.3

Day 5: Defining Ellipses

Day 6: Working with Elllipses

Day 7: Defining Hyperbolas

Day 8: Working with Hyperbolas

Day 9: Quiz 10.4 to 10.7

Day 10: Unit 10 Review

Day 11: Unit 10 Test
Precalc Lessons 0.1 to 0.4 Quiz
MMAP
Media Locked
You must be logged in to access this content.
Assessments are an opportunity to find out what students understand. Questions should be carefully crafted to give students the opportunity to show what they know, but also expose what they don't. When it comes to creating assessments, we follow these guiding principles:
Start with the Learning Targets. There should be a very strong alignment between what is learned in class (Math Medic Lessons), what is done for practice (Math Medic homework) and assessments (Math Medic quizzes and tests). The throughline that holds all of these together is the Learning Targets.

Assess more than just procedural skills. We want students to grasp deep conceptual ideas, not just follow an algorithm to arrive at an answer. We write creative questions that reveal student thinking by asking them to explain, decide, defend, and demonstrate their reasoning.

Vary how an idea is assessed. By changing up what we ask students to find or how we present the given information, we can determine with greater specificity where students are in the learning progression. We use a mix of basic, intermediate, and advanced questions on every assessment.
Learn more about the Math Medic Assessment Platform (MMAP).