Written by Sarah Stecher published 1 year ago
---
One of the things we value most at Math Medic is helping students build deep and flexible understanding of math concepts. This begins with our EFFL lessons and is further developed through thoughtfully written homework, quiz, and test questions.
In this article we will look at a specific Algebra 1 lesson and then explore six homework questions that can be used to support, develop, and assess students' thinking around the topic.
In Algebra 1, students build conceptual understanding of how to solve a linear equation, but more importantly, the reasoning behind how we can arrive at a solution. A strong understanding of equivalence is vital. Sure, students can memorize a set of steps about how to "get x by itself" but if we really want students to understand that solving an equation means finding a value for x that equalizes or balances two expressions, we must do more. We don't just want a correct final answer. And we don't just want students to show all their work and identify each step of the procedure. How can we build upon students' understanding of equivalence to develop a strategy for solving linear equations? This is what we set out to do in the Whose Gift is Better? lesson in Unit 3.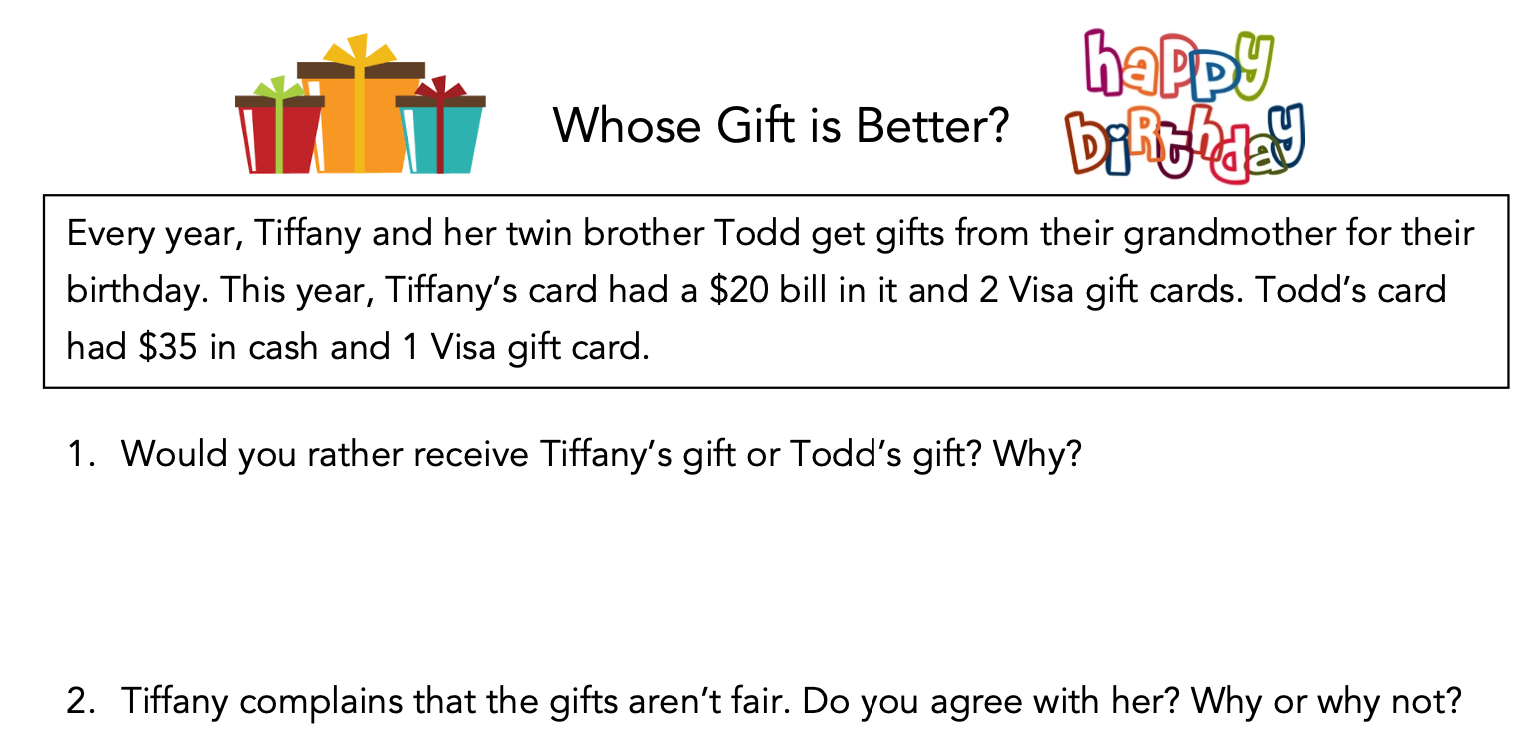 In this lesson, students compare the value of 2 expressions, Tiffany's gift and Todd's gift, which are both made up of a known cash quantity and an unknown value of a gift card. Which gift is better? There are numerous factors to consider, of course. Some people just prefer cash over a gift card. But it's hard to compare the monetary values of the gift without knowing the value of the gift card, i.e. the variable. If the gift card had $50 on it, then having the extra gift card more than makes up for the 15 dollars less in cash. But if the gift card has only $2 on it, I'd rather have the 15 extra dollars in cash!

In question 3, students learn that the gifts have equal value. What does this mean? It means that the difference in cash must be made up for by the difference in the quantity of Visa gift cards. The two must balance each other out!
Tiffany has 1 extra gift card. Todd has 15 extra dollars. The value of the gift card must be $15.
The equation we are having students solve is 20+2x=35+x. This is often called a "multi-step equation" or it gets the special classification of having variables on both sides. We don't think these distinctions are necessarily important, and they often detract from the conceptual understanding. This is because they add an additional step of classifying the problem by "type," which then generally leads to recalling an algorithm that works for that type. If students understand what the equation represents, what it means to find a solution, and have grasped the meaning of equivalence, they should be able to solve the equation whether it looks like 4x=26 or −3x+7=13.

Question 4 gives students another opportunity to apply the strategy of balancing. Question 5 uses students' intuitive reasoning to reason about a linear equation that in this context, has no solution. In the subsequent lesson we will explore negative solutions in more depth.
How can we use homework problems to develop, deepen, and assess this understanding? We can not assume that doing this one contextual problem about Tiffany and Todd's gifts will automatically transfer to all other equations students might be asked to solve. We also can't assume that the idea of solving by balancing, or finding the equalizing value is already solidified for students. Finally, we can not assume that just because students get a correct solution to a problem like –8x+12=5x−3, that their thought process is correct.
The purpose of the homework questions is not just to align with the content covered in class but also with what students did in class, the conceptual learning they developed in the lesson. The homework should contain questions that develop and assess the thought process, not just the skill or the ability to arrive at a correct answer. This is why homework is a formative assessment tool. We should be able to use the questions to determine what students understand based on their thinking, not just based on a right or wrong answer. This means we have to write questions differently in a way that illuminates students' thinking, so that they themselves, and we as their teacher, can assess what they do and do not yet understand.
Let's look at 6 sample homework problems for this lesson to see how we could accomplish this.
Things to note:
While the lesson itself was contextual, examples 1, 3, 4, and 6 do not include a context. This does not mean they are rote problems!
Only examples 2, 3, and 4 actually have students solve for the value of x. The other questions are intended to address the reasoning behind how we solve for x. Students are encouraged to explain their reasoning in multiple ways. They may choose to use words, algebraic representations, or the bar model introduced in the lesson.
Example 3 has very similar features to the equation students worked with in the activity (positive coefficients and constant terms). This question gives students an opportunity to apply the same line of reasoning to an abstract context. We expect students to notice that 2x=8 and thus x=4. However, we can not assume students thought this way if they arrive at the right answer. This is why we don't ask multiple questions in this style.
Example 4 extends the lesson to include negative coefficients, but provides scaffolding to reveal to students the underlying similarities in approaches. Instead of students giving up and saying "we never did one like this in class!", parts a and b encourage students to apply what they know.
Example 6 is open-ended and has multiple solutions. It requires higher-order thinking because students must work backward and notice the structure in the coefficients and constant terms on both sides of the equation. This problem uses the Open Middle format.
Good homework, quiz, and test questions are essential for building on students' in-class learning. This is why we are so excited to share the Math Medic Assessment Platform to provide you with ready-to-use assessments that are editable and able to be assigned to students digitally or printed as hard copies.
The new Math Medic Assessment Platform contains a homework assignment for every lesson AND quizzes and a test for every unit! If you haven't checked out the platform yet, click here to learn more and to start a trial. Still have questions? You can find the answers in the FAQ about the MMAP.
---
---